Custom Configured Paper Roll Application
Contact Sales/Get More Info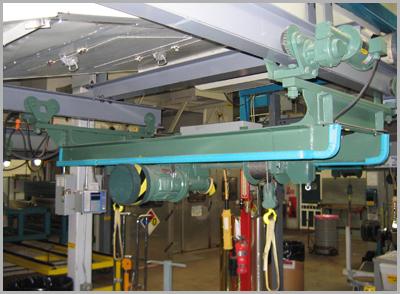 Features:
Dual rail twin hook hoist
Configured to avoid existing structure
Headroom dependent design
Electrolift teamed up with a crane manufacturer to design the unique solution shown here. Our customer uses a series of rollers and chemicals to etch a holographic image onto wrapping paper. The rolls of paper are then loaded and unloaded into machines that wind and unwind the spools. Existing structure determined where the rails were to be located; the hoist design had to compensate for this location. As shown in the diagram, clearance is required to avoid existing structure, while still maintaining the required headroom. This was accomplished by using a version of Electrolift's low headroom dual-rail hoist. Because of the modular design, the hoist was reconfigured from riding above the rail tread to below it.