Low Headroom Railroad Car Maintenance Hoist
Contact Sales/Get More Info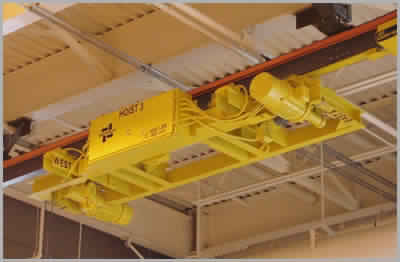 Features:
Low Headroom
2 Independent Hoists in a common frame
Able to negotiate 10′ radius
Radio controls
The hoist shown here is used in a railroad car maintenance application. The customer required a hoist that can remove and replace the air conditioner unit from the top of the railcar. The unit must be removed at an angle, requiring independent hoist movement. One end of the unit is raised, moved forward slightly, then leveled and completely removed from the car. This was accomplished by providing two independently controlled hoists in a common frame. One radio control unit controls two hoists with a selector switch for either hoist or for combined hoist operation.
As shown in the drawing, there were also dimensional limitations for this system because the hoist unit would pass through track switches. The trolleys had to be located to be able to negotiate a radius while being pulled by a tractor. Also adding to the complexity of this project, there was a limited amount of headroom available due to the height of the rail car, and low ceiling of the facility.
Electrolift was able to meet all specified requirements by supplying a custom hoist designed for this application.