Modular Twin Hook Marine Application
Contact Sales/Get More Info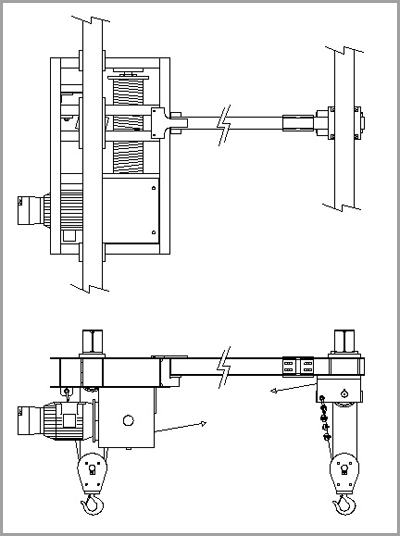 Features:
Marine duty service
Modular twin hook design
Designed to facilitate transport and installation
A shipbuilder contacted Electrolift for a 15-Ton twin hook hoist to improve the manufacturing process at their facility. The existing application used two 7.5 ton hoists mounted on beams spaced at 28 feet. Due to the frequency and long length of the lifts, the load would often become out of level. This becomes an issue whenever two separate hoists are used because the motors and gearboxes are not synchronous. Leveling the load was necessary for safety reasons and took time away from production. The initial thought was to offer a twin hook hoist with two drums mounted on a common shaft driven by one motor and gearbox. However, this situation presented many challenges because of the 28-foot span between hooks, proving that a 'standard' twin hook hoist could not be used. A hoist frame that large would be very costly to manufacture and difficult to transport due to the size and weight. Installation would also be a concern because of the equipment required to lift a hoist of that size.
To solve this problem, Electrolift designed a modular twin hook hoist that could be installed in three separate pieces. The main hoist is located and installed on the beam. The remote sheave and bracket assembly is then located and mounted on the other beam. Once those two components are mounted, an I-beam is placed between them to resist the horizontal forces due to the reeving. Since this was a large-scale installation, there was an allowance made for adjustment, using splice plates ensuring proper alignment.
To add to the complexity of this project, the hoist was located in a marine environment. All components had to be corrosion resistant or sealed from moisture. This included stainless steel sheaves, stainless steel wire rope, epoxy paint, sealed ball bearings, and a marine duty motor and brake. The Electrolift single gearbox worm drive design also saved downtime and money because only one motor, brake, and gearbox had to be maintained.
This hoist provided the customer a safer, more efficient, and maintenance-friendly solution that improved their manufacturing process.