Reduced Cycle Time in a Sandblasting Application
Contact Sales/Get More Info
Features:
Dedicated sandblasting process
Spring-loaded dead-ending
2 Speed trolley travel limit switches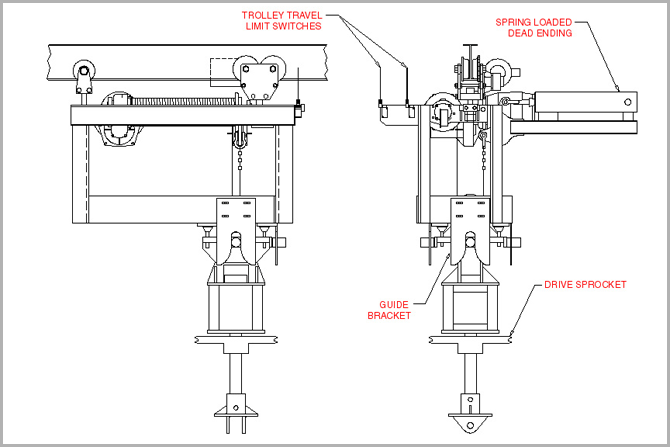 Lifting equipment is often used in a dedicated process. In this application, a locomotive manufacturer needed to load steel rings into a sandblasting apparatus. Initially, these rings were to be loaded onto a spinning mechanism by forklift, then moved by trolley for sandblasting. The spinning mechanism used a drive sprocket to engage a chain once inside the sandblasting apparatus. The steel rings were spun while being blasted to ensure a uniform finish. This process was very time consuming and involved a great deal of handling.
Electrolift supplied two hoists to be integrated into their new system. These hoists replaced the forklift and trolley system that was in place. While one set of rings were being sandblasted, the waiting hoist could be loaded.
The most important feature of this hoist is the ability to lift the workpieces and hold them in place. This hoist is fitted with a spring-loaded dead ending to ensure the drive sprocket assembly is firmly held in place against the sub-frame. This allows for proper alignment of the drive sprocket and chain in the sandblasting apparatus. Guide brackets direct the spinning mechanism to compensate for any misalignment while lifting.
The hoist design also included features that improved the customer's process. Previously, the operator had to judge by eye when the workpieces were properly located in the sandblasting apparatus. Using a two-speed trolley with travel limit switches, the hoist could be precisely located. First low speed would engage at a pre-set point, then the second travel limit switch would stop the hoist at the proper location. This process reduces impact on the hoist and drive sprocket assembly and ensures proper location every time.
This customer came to Electrolift looking to replace their existing system. After studying their process, we provided a unique solution that exceeded their expectations by reducing overall cycle time and improving the efficiency of their system.